Through many years as resident Band Leader\Musical Director at Club Marconi, I came to know the Gustin's very well, Dino & Mamma Lena had many functions at Club Marconi and were often assisted by their daughter Rosalba. Many accolades about Dino & Lena have been written and expressed by people more important and eloquent than myself, however I wish to express my appreciation for what the Gustin's did in regards to promoting Italo-Australians artists and in particular those who lived in Sydney.

Apart from participating in the "Festival in Casa" competition where my band 'Tempo 7' backed the singer Rina Bortone, I did not seek to receive any special favours from the Gustin's, because I had been already blessed with the opportunity to work so many years at Club Marconi. But I was pleased to assist the Gustins whenever I was asked. I am pleased to feel that I may not have been there in the early years but I am proud and honoured to have been involved with them and their daughter Rosalba in their twilight years. I am proud to have been chosen by the Mamma Lena Foundation Inc.to construct this website with the view of ultimately archiving every possible item covering their 70 years of memories.

Having been more an observer of their activities than a participant, I feel that in contributing to this project I believe that I sense a warm glow of appreciation from Dino & Lena and in particular from Dino who was a prolific archiver and who would no doubt approve.

Dino was himself an innovator. What the computers and internet are to us today, the latest state of the art equipment of his day such as receiving via short wave programmes from Italy, tape recorders, teleprinters etc. Dino was using then and was at the forefront of technology of his time.

Enzo Giribaldi - 2006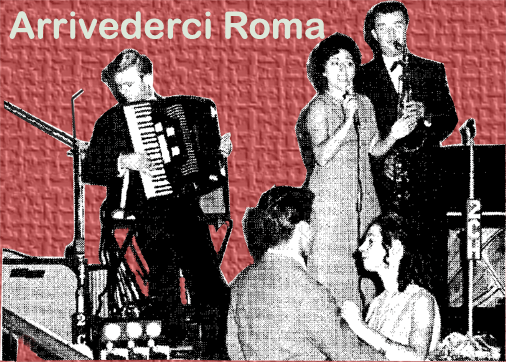 Enzo and his band accompanying the singer Rina Bortone during one of the many functions held at Club Marconi by Dino & Lena.
In this instance it was a broadcast of
'Arrivederci Roma' by 2CH.
See tribute to Enzo Giribaldi by Mamma Lena