While most 83-yearold's are comfortably nestled in retirement, Bankstown's Lena Gustin is commencing
work on her fourth novel.
Together with her husband of 57 years, Dino Gustin, the pair plan to chronicle the Italian presence in
Bankstown and surrounding areas.
Lena arrived in Australia in 1956. At this time, there were no support networks or bureaus which could offer
assistance to newly arrived immigrants.
Lena filled this void by commencing work on a 2CH radio program entitled Arrivederci Roma.
From 1959 to 1984, more than 200,000 people tuned in weekly to listen to Lena offer her devoted audience advice, guidance and information.
In addition to her radio commitments, Lena found time to write two regular columns, Lena's Living Room and Lena Responds, in the Italian newspaper La Fiamma.
"All those years ago, there were no offices to help a person do something. Because I was on the radio and
writing in the newspaper, I became a familiar person," Lena recalled.
"The most important thing was the communication. If someone asked me for something, I could do it
because of the program."
Considered a mother to all Italo-Australians, she affectionately became known as Mamma Lena.
Dino and Lena have two children, Rosalba and Roberto, who have emerged from the enormous shadow cast by their well-known parents by establishing successful careers in their own right.
Both children are understandably proud of their parent's accomplishments.
"It was phenomenal the amount of letters they used to receive. At that time you didn't have ethnic radio or community support systems. Mum was the only contact that the Italians had. It provided them with a lot of things they needed to know when they came to this country. She became an assistant to everyone," Rosalba said.
The Gustins have been inexhaustible fund-raisers for a multitude of causes. To list all their achievements in a few paragraphs is virtually impossible.
In 1967, Italy recognised Lena's valuable work for migrants in Australia by awarding her its second highest honour — The Cross of the Cava-liere.
"It was an official honour. But really I'm not a person who worked for the Cavaliere. I'm the sort of person who helps people who need it," Lena said modestly.
In further recognition of her tireless work for the Italian community, she was awarded the MBE in 1968.
What makes the Gustins' efforts so commendable is the fact that Lena and Dino worked primarily on a voluntary basis.
"We never received any money, but we had enough," Lena said.
Lena inaugurated the Sorella Radio Child Care Centre, recently renamed The Mamma Lena Child Care Centre, 13 years ago.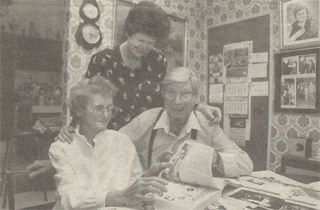 Money for the centre was generated from donations sent in by Lena's many listeners.
"People would donate money and over the years this money accumulated. So my mother and father decided
to put the money towards a good cause, establishing a child care centre," Rosalba said.
"There are many stories like that. The focus of her life has been to help people and she gets so much
satisfaction from that. If they can't give, they're not happy."
For those interested in sharing their experiences with the Gustins, write to Mamma Lena and Dino Gustin, P.O Box 413, Punchbowl, NSW, 2196,

Click here for current address and contacts.